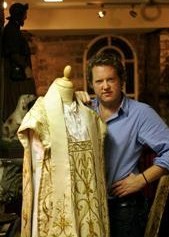 Hello and welcome to my website, I have been working with the Churchs,
Convents and Religious houses in Ireland and the UK for over 20 years 
Whether you're adding to your church, renovating, or simply parting with 
some religious Items. please allow me the opportunity to assist you.
Stephen Bird Flanagan
Tales from the crypt 
By Ruth O'Connor
Stephen Bird Flanagan's job entails chasing angels and saints, but he says his pursuit of religious antiques is as much a calling as a career.
In the crypt like cellar, lights glint on the curve of a chalice; on the stark relief of a monstrance; on the agony in the eye of the Christ at Calvary; on the seat of a church pew. The cool underground air and subdued lighting contrast sharply with the brassy brightness of the candelabra and a sanctuary lamp's regal glow. You draw breath as you descend the stairs from the angel-bedecked doorway of the Dublin street above.
Stephen Bird Flanagan's thirst for antiquities is in his blood. His grandfather, Christy Bird, founded Christy Bird Antiques on Dublin's South Richmond Street in 1945. Bird Flanagan spent his youth running in and out of his grandfather's shop, his attraction to the archaic and the odd growing all the while. Yet, in a curious twist, it took a trip to Australia to sow the seeds of the business Bird Flanagan now runs. 
On his travels in the 1980s, Bird Flanagan was helping to restore a church in Australia when he met a glass restorer who enquired after the availability of stained glass from Irish churches. With a nose for antiques and an eye for art, Bird Flanagan's interest was piqued.
While it may have been his work that led him to stained glass, it was his curiosity that enabled him to fashion a career out of all manner of churchware. For the past 18 years, the father-of-two has been salvaging and selling, repairing and restoring items of churchware, from hand-painted Stations of the Cross, to stained glass panels and ciboria (vessels used to hold the consecrated host for Communion).
He moved next door to Christy Bird Antiques (now run by his brother Christopher) and began to establish his reputation as a dealer in religious antiquities. The vast majority of his customers are clergy seeking items for churches. With the increasing sales of religious properties and the decrease in the number of clergy being ordained, the mid-90s was a time of acquisition for Bird Flanagan. 
''The number of items available really rose in the late-1990s and early2000s with the property boom in Ireland, It has slowed down now and it is becoming more difficult to source items, but people know me now from being in the business so long and will ring if they are looking for a religious artefact."
The area around his shop has changed a lot since 1945, when Christy Bird opened his shop. Now, The Crypt nestles alongside Tassilli Halal Meats and Rico's Flafel Shop. ''When I bought this building we had to knock the whole thing down, so I was able to put this floor down - using lovely tiles from a convent."
Bird Flanagan has a wealth of knowledge on the subject of stained glass. ''Much of the stained glass you see was mass-produced by companies such as Mayer's of Munich. Then in the early 1900s, people began commissioning Irish stained glass artists to produce works. I always had an interest in that period."
Mayers mass-produced stained glass in the 1870s and was responsible for the stained glass windows of at least nine Irish cathedrals, including Carlow, Waterford and Letterkenny] and was, therefore, cheaper.
Bird Flanagan goes on to tell stories of renowned stained glass artists such as Evie Hone and Harry Clarke from the 1920s, as well as his interest in members of An Túr Gloine, the Irish stained glass cooperative which was formed around that time.
However, despite his interest in religious artefacts, he has been careful to keep his work separate from his home life - at least after some gentle prompting. ''I used to have a lot of items at home, but I've been told to minimalise. I have two children, so you can't really have this sort of thing lying around," he laughs.
Having spent many years travelling throughout Britain, Ireland and continental Europe sourcing items, Bird Flanagan now sources most of his stock in Ireland, travelling around the country on foraging missions at least twice a week.
The Dublin native has also become something of a curator of religious vestments and is keen to build upon his collection of ecclesiastical garments. ''Having worked with a lot of churches and convents over the years, it was a natural progression to begin collecting the vestments of the religious who had worked there.
''People used to donate their wedding dresses to the church and the nuns would make vestments of them, using the lace. These 'patchwork' vestments are generally of inferior quality to the vestments produced by specialist manufacturers such as Bull and Clerys. I collected them for years while I was going around acquiring different pieces; there were so many of them. Now the pieces I have are the most high-quality pieces."
Bird Flanagan sells hand and machine-embroidered vestments in the Gothic (draped-style) and the Roman style (poncho-style chasuble).The vestments are stunning for the most part, featuring intricate hand-embroidered motifs in metallic threads, heavy fringing and beautiful antique fabrics.
''You have to have good sets for priests to buy. People sometimes frame them, too, as they are of exquisite workmanship. You can make new vestments, but you're never going to get the same quality as the old vestments, with their beautiful damask and handmade lace and embroidery," he says.
The vestments sell for anything from €50, Some are high Mass sets of impeccable quality used during the Tridentine or Traditional Latin Mass.
Despite having other business concerns, this is where Bird Flanagan is happiest, doing his job out of sheer love of the items, the craft that went into them and a deep respect for his customers. ''This is my life as well as my job. Years ago, the arts weren't funded, so talented artists, rather than working on their own projects, would have put a lot of time into religious art - sculpture, paintings and vestments.
''The religious orders commissioned a lot of work and I believe that my collection is that of the best work carried out by the best unknown or unsung artists."
The Crypt – Vestments, Religious and Ecclesiastical Items is at 31B South Richmond Street, Dublin 2. See www.thecrypt.ie or tel:01 4784245