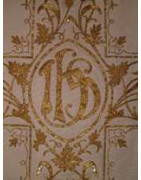 White Vestments
White chasubla red velvet cross

A beautiful White Chasuble has a celtic design centerpiece on water silk with matching stole

a very nice white demask chasuble

White Chasuble with celtic center piece, with similar white stole.

This is a beautiful white chasuble with pearls and hand embroidery work, on demask, with simular stole

White Chasuble with lily design

White chasabla with red Labarum on cross, simular stole

This fantastic white chasuble depicting our lady all hand embroidery on water silk

This white chasuble with wide gold brading and gold treaded IHS centerpiece

White / Gold chasuble red braiding

This White demask chasuble has green braiding, and IHS centerpiece.

This White chasabla has a velvet red cross on demask and mathing chasuble.